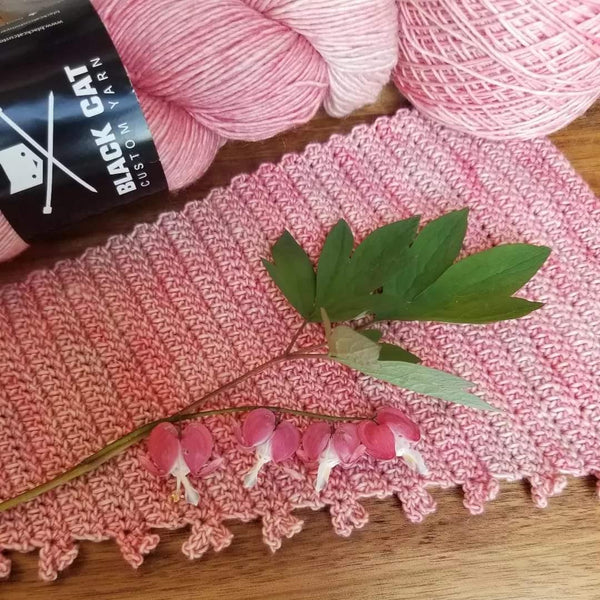 Community Spotlight: Fern and Oak Fiber Art and Her Crochet Journey
Crafting a Legacy: The Origins of a Crochet Journey
While many of us remember watching a loved one skillfully craft with yarn and hooks, for Fern of Fern and Oak Fiber Art, these memories are interwoven with her own journey into the world of crochet. Her grandmother's intricate lace doilies and tablecloths made from the finest cotton yarns were her first introduction to the art form.
When her grandmother passed in 2021, she inherited a hat box full of crochet patterns. Within were her grandmother's personal project notes, a tangible connection to her beloved relative. It's these patterns and the love of fine laceweight yarns that have guided her on her journey.
From Tunisian Stitch to Free Hand Crocheting
The journey began in earnest when she crafted her first piece, a Tunisian stitch pot holder, back in her grade 4 Home Economics class. However, it wasn't until she had her own children that she found the motivation to dive deeper into the craft. Blankets, lots of blankets, were created, wrapping her children in the warmth of handcrafted love.
Stepping into Pattern Testing
A few years ago, she decided to expand her horizons. Seeking to challenge herself and learn new things, she began pattern testing. From garments to accessories, she tested a wide variety of patterns, but it was the shawls that truly captured her interest.
Designing with Nature's Inspiration
Venturing into the realm of pattern designing was a natural progression for her. Drawing from her valuable experience as a pattern tester, she's applying her new-found insights to design her own creations. The Dicentra scarf, her current project, is a captivating embodiment of this journey.
She masterfully employs the herringbone half double crochet stitch, lending the scarf a woven-like texture and a sense of direction. The scarf, long and narrow, is adorned with a simple decorative edge that adds an understated charm. The inspiration for the scarf's name and color palette originates from her blooming garden, particularly the bleeding hearts with their soft tonal pink hue.  
A Day in the Life of a Crocheter
When her children were young, she managed to craft after they went to bed and enjoyed listening to audio books while she did so. Now that her children are all grown, she has a lot more free time. She works part time at a flower shop, and on the days she is home she sets aside an hour or two for crocheting while she has the house to herself, then she usually spends another hour or two crocheting in the evenings. 
Her Advice for Beginners
For those starting their crochet journey, she offers some words of wisdom: master a simple stitch first. Once the motion of the hook and yarn feel comfortable in your hands, the rest will come fairly easily. Also, remember, every crocheter is on a different path so don't compare yourself to others, comparison kills creativity.
Final Thoughts
This crochet journey beautifully illustrates how this craft can be a link between generations, a personal form of expression, and a source of endless inspiration. We're incredibly grateful to Fern and Oak Fiber Art for sharing her journey with us and we hope her story inspires you as much as it has inspired us.